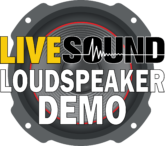 Live Sound Loudspeaker Demo – Round Robin

This round-robin demo will feature ALL participating manufacturers that are part of the Live Sound Loudspeaker Demo. Multiple tracks are played through both the smaller, portable systems as well as the higher output, compact systems in a round-robin format.
Compare the different sound systems in one space to determine which one is the best fit for your church.
Plus, enjoy special prize giveaways! Professional audio gear will be raffled off at the end of every round robin demo, so make sure to show up for your chance to win!