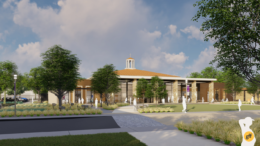 Speakers
Chad Anderson

Superintendent at Hill & Wilkinson General Contractors

Chad Anderson, Superintendent, has 27 years of experience in the construction industry. He has been with Hill & Wilkinson for 6 years and is currently completing work on the Dallas Theological Seminary Chapel and Student Life Center. Chad is well-versed in serving faith-based campuses and has had oversight on more than 20 projects during his time at Hill & Wilkinson.

Jacquelyn Block

Associate Principal & Church Works Studio Director of GFF Architects

Joining GFF in 2011, Jacquelyn has over 12 years of experience with educational and faith-based clients. With a passion for religious and educational facilities, Jacquelyn works closely with her clients in the initial programming and planning phase to identify key strategies to create facilities that support her clients' goals in an innovative and creative way.

Her projects have won several design awards including Worship Facilities Solomon Award, Texas Construction Magazine's Best Architectural Design and Outstanding Project from Learning by Design. She has managed several projects earning LEED certification. She is integrally involved in the project from the initial phase of planning and capital campaign efforts, through design and construction.

Jacquelyn is a graduate of the AIA Emerging Leaders program, has participated as a design jurist at The University of Texas at Arlington and volunteers with several local organizations. She received her Bachelor of Science in Architectural Engineering from the University of Texas at Austin and her Master of Architecture Degree from the University of Texas at Arlington. Jacquelyn is an Associate Principal and the Institutional Studio Director.

Matt Sisco

Executive Vice President of Hill & Wilkinson General Contractors

Matt Sisco, Executive Vice President at Hill & Wilkinson, has more than 21 years' experience and is responsible for the overall operation and leadership of projects in the Institutional division. Matt has a wealth of prior experience on religious and faith-based higher educational campuses, and his division continues to deliver quality buildings for these clients across the Dallas/Fort Worth metroplex.

Stephen Pickard

Principal at GFF Architects

Mr. Pickard is a Principal at GFF and has over 35 years of architectural design and management experience. The last 20 years of his career have concentrated on the development of a national practice specializing in the design of church and faith-based facilities.

Mr. Pickard is very familiar with current trends and the most progressive thinking as it relates to Worship spaces, Children's Education spaces and meaningful venues for Community Connection. These projects incorporate both cultural and religious aspects into church campuses that strive to serve not only their members but also the larger community.

Mr. Pickard is currently working with several churches around the country and in the Dallas/Fort Worth area. He also serves as Chairman of the Design Committee for Interfaith Design, the Interfaith Forum on Religious Art and Architecture and on the Dean's Circle for the Texas Tech University College of Architecture Design Leadership Alliance.
TOUR: Dallas Theological Seminary

Join us for a tour of Dallas Theological Seminary's new 500 seat Chapel and Student Life Center which opens Fall of 2021.  The facility has a state-of-the-art Worship space, rehearsal and back of house areas, a catering kitchen, administration space and a gathering area with a coffee bar to foster interaction between members of the DTS community.
Sponsored by GFF Architects and Hill & Wilkinson General Contractors