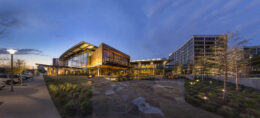 TOUR: Watermark Community Church — A Long-Term Plan with a Focus on Stewardship

More than a decade ago, Watermark Community Church sought to create a new home for their church that appealed to the dead-churched, de-churched and un-churched.
They purchased land with an existing office building and partnered with OMNIPLAN to create a long-term masterplan to develop a campus that served their needs. The four-phase plan would allow them to build debt-free as God made funds available, and reflected the church's core values of authenticity, integrity, warmth and community.
Now complete, Watermark is known locally as a vibrant space, bustling with activity seven days a week. The facility was designed for the people who make up the church, to be the Church to the community. Thus, all buildings are focused around a town square for community gathering and social activities, acting as the multi-functional heart of the urban campus.
See how the leadership planned out the ministry impact throughout the campus and over the build plan.
Learn how the building masterplan was designed and constructed.
Discover how the campus is used throughout the week to serve the congregation and community.
Observe the A/V/L tech that was installed and hear why they chose it.
Space is limited to 50 attendees.
Sponsored by: