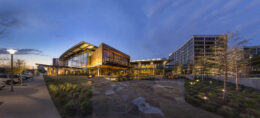 Speakers
Alex Hockett

Video Content Director at Watermark Community Church

My name is Alex, and I joined the Technical Arts team in February of 2017. I started as a volunteer with the Student Ministry's AV team, and when they realized they couldn't get rid of me they asked me to join their staff. I had the blessing of growing up in a Christian home with parents who modeled the life of Jesus daily. I came to know Christ when I was 13, when I understood that my parent's faith was not my faith. That inspired me to go to Bible college and one day work in a church. I was convinced God had designed me to be a Student Pastor. Just shy of 3 years in that position, I had realized my gifts and skill sets were in the Technical Services and Arts world and transitioned out of that Student Pastor role, and started serving at Watermark.

I graduated college from a small school in Boston in May of 2010, with a Bachelors of Science in Biblical Studies. I moved to Dallas in March of 2012. I started attending Watermark in September of 2014; and in that short time I have watched God move so miraculously in my life. I enjoy life with my wife, 2 children and 2 dogs.

I have no real area of expertise, I just love to learn, and remove obstacles. I enjoy graphic design, and I get to do that from time to time in my role here. I enjoy photography and try take at least one photo a day. Getting to serve other leaders, as those leaders tell others about Jesus is the highlight of my job. At that point, is it a job?

Amanda Buckley

Chief Marketing Officer at OMNIPLAN

As Chief Marketing Officer, Amanda is responsible for developing firm-wide strategic marketing and business development initiatives. She is passionate about creating and maintaining successful client relationships, engaging all firm members in business development, as well as developing and sustaining a consistent brand identity that is evident throughout every facet of the firm.

Having been with the firm for 15 years, Amanda has been entrenched in all firm practices and is specifically passionate about retail, mixed-use and urban planning. As an active member of the International Council of Shopping Centers, Amanda is plugged into the latest trends in the retail market and how thoughtful design responses can influence consumers and create meaningful experiences. Further, Amanda led a pro-bono effort to create an Area Plan for the Casa View area which was approved by Dallas City Council in late 2016.

Raegan Driskell

Facilities & Events Coordinator at Watermark Community Church

I was born in Garland, Texas into a family that loves and pursues Christ, and I came to a relationship with Christ myself at a young age. I was taught from that young age that we were not just called by God to go to Church, but we were called by God to be the Church by serving others. God led me to Watermark in late 2007, where He placed people in my life that helped me grow in my understanding of what His grace means to me, and how serving others is an extension of my response to His grace. I've been volunteering my time here at Watermark ever since. In 2016, God led me to serving in a full time capacity as a member of Watermark's staff.

If I'm not working, you'll usually find me going to a movie, watching a baseball game, or enjoying some quiet with a cup of coffee.
TOUR: Watermark Community Church — A Long-Term Plan with a Focus on Stewardship

More than a decade ago, Watermark Community Church sought to create a new home for their church that appealed to the dead-churched, de-churched and un-churched.
They purchased land with an existing office building and partnered with OMNIPLAN to create a long-term masterplan to develop a campus that served their needs. The four-phase plan would allow them to build debt-free as God made funds available, and reflected the church's core values of authenticity, integrity, warmth and community.
Now complete, Watermark is known locally as a vibrant space, bustling with activity seven days a week. The facility was designed for the people who make up the church, to be the Church to the community. Thus, all buildings are focused around a town square for community gathering and social activities, acting as the multi-functional heart of the urban campus.
See how the leadership planned out the ministry impact throughout the campus and over the build plan.
Learn how the building masterplan was designed and constructed.
Discover how the campus is used throughout the week to serve the congregation and community.
Observe the A/V/L tech that was installed and hear why they chose it.
Space is limited to 50 attendees.
Sponsored by: