Foundations is a high-quality on-demand video library of educational presentations and talks from church leaders and industry experts. In addition, you can access downloadable resources that support your entire church team.
Delivered in an easy-to-use and accessible video platform, Foundations is a powerful solution for churches that desire year-long access to education and resources that support growth.
Foundations is produced by WorshipFacility.com and CFX Events, the recognized leaders for providing education and insights to churches.
 One Full Year of Access
On-demand video access to presentations held at CFX events throughout the year
Short-format video lessons from church leaders, covering specific areas within a larger topic
Stream all content at any time and on any device, in brilliant HD
Download digital resources, PowerPoint presentations, webinars, and research
25% discount on registration for in-person CFX events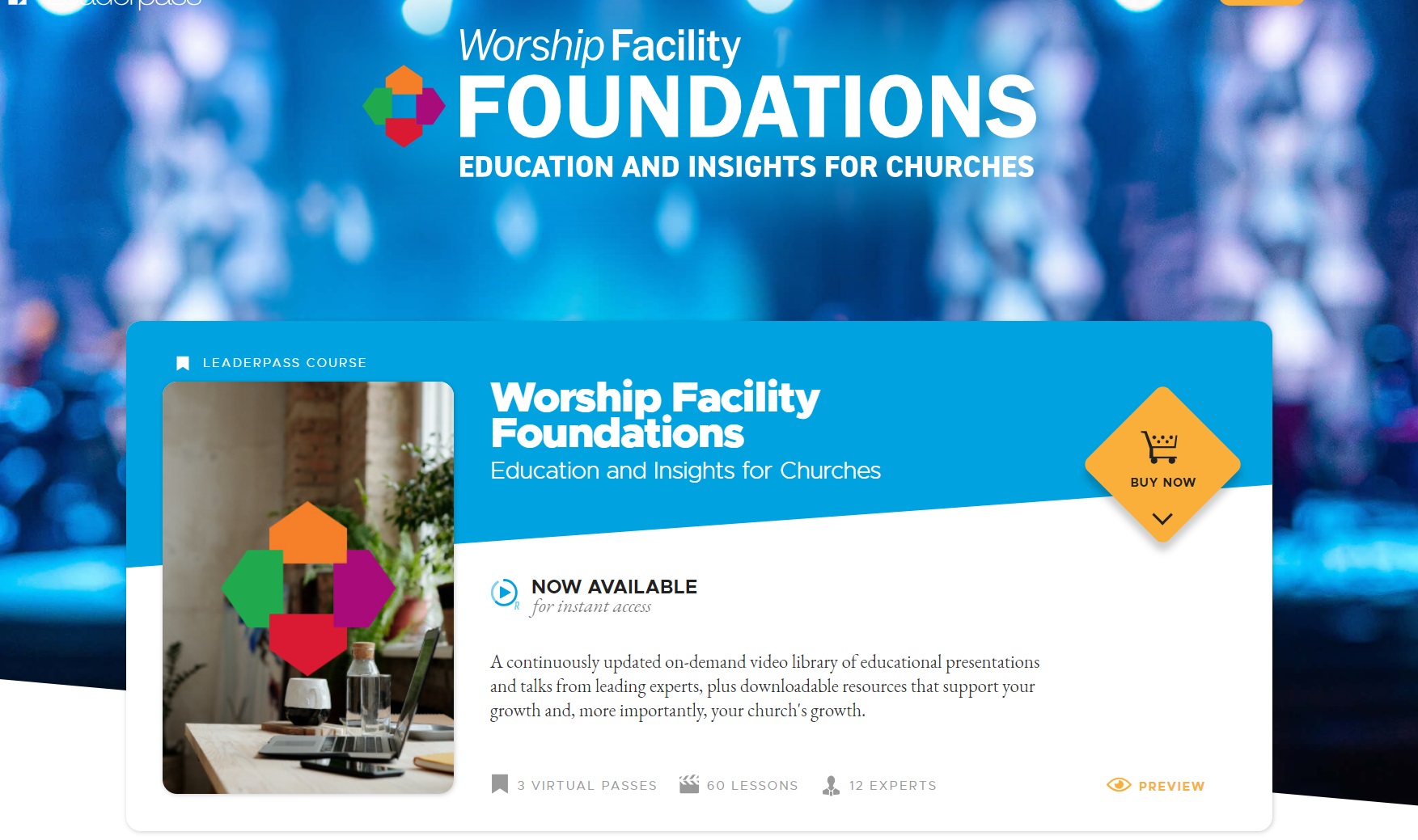 New Videos Every Month
Featuring leadership insights from Andy Stanley and other church leaders
CFX Essentials presentations –

 

30+ Videos
CFX 2023 Dallas presentations will be posted by November 15th –

 

60+ Videos
Foundations Modules will be posted monthly, beginning in July –

 

5+ Videos each month
Your Subscription Includes 3 Educational Content Channels
Worship Technology and Production 
AVL Projects: Planning, Budgeting, and Installation
Tech Staff and Volunteer Development and Training
Audio: Capture and Mixing for Live and Online Production
Lighting: Fixtures, Controls, Applications, and Design
Streaming and Broadcast Production: Tools, Practices, and Solutions
Video: Camera Applications, Capture, and Post-Production
Service Planning Strategies, Processes, and Tools
Facility Improvement, Use and Safety
Architectural Design & Construction Planning for Any Building Project or Upgrade
Facilities Management and Operations
Building Usage for Maximum Engagement
Revenue Generation Opportunities
Safety and Security Training and Resources
School and Church Operations Management and Safety
IT Infrastructure and Cybersecurity
Capital Campaigns and Finance
Leadership and Management 
Leadership Principles That Will Make Your Staff and Volunteer Teams Stronger
Staffing and Strategic Development
Finances, Budgeting, Insurance and Taxes
Communications: Social Media and Website Outreach and Engagement
Encouraging Your Online Audience to Attend In Person
HR Policies and Strategies
Church Database Management and Analysis
A Solution for Your Church Team – Up to 5 Team Members
By purchasing, you instantly have access to a shareable and comprehensive learning center.
Readily available toolbox of resources to share with your teams
Training for your tech, facility, safety, communications, leadership, and administrative team members
Training that will save you money on your next building project or tech upgrade
Reliable education from leading experts whenever you want it
24/7 access to a continuously updated library you can return to again and again
A Powerful Learning Solution for Churches
"Our team is very reliant on volunteers, which makes educational or growth opportunities hard to find and afford.  The video library became a convenient and important opportunity to elevate everyone's knowledge. Being able to watch a session together, or repeat one helped us apply these ideas in our church. It's been a good value for our church."
Tech Team Leader
"In our team, when someone finds a good idea or learns some approach, we have to translate it to others on my church leadership team. Of course, ideas get lost in translation and this can be frustrating. The opportunity to watch, learn, and discuss together has been powerful for moving ahead faster, and we have more confidence in the outcome."
Executive Pastor
"We were unsure and intimidated by the prospect of a building project. Our priority was guidance on how to consider and plan our project. The design and build sessions were accessible and the instructors were generous with their knowledge. It was invaluable for us to learn from these experts."
Pastor
We created Foundations because we believe every church should have the tools they need to pursue the vision they have for their church.
Our deep understanding of the challenges churches face has guided us to design an educational solution that works for churches of any size.